About The Event
PCDC 2023 will be held on 15-17 April 2023. Ten teams were invited to compete on each day of the event with high schools competing on Saturday, colleges on Sunday and the pros on Monday. CyberPatriot was used as the high school qualifier and the Southeast Collegiate Cyber Defense Competition for the collegiate qualifier.
Scenario:
Palmetto('s) Choice Diamond Commercial (PCDC) Airline - The overall focus will be on account security. Teams will be tasked with maintaining services to ensure flights are not cancelled or delayed. Services will be used for Check-In, Online ticketing, etc. Flight schedule will be given at the start of the competition and a real time display will be available to monitor flights and services.
The High School Teams that will compete on Saturday are: AAST, Academic Magnet, Ashley Ridge, Clover, East Cooper, Home School STEM, Palmetto Scholars Academy, Silver Bluff, Stratford, Swofford
The College and Professional teams are To Be Determined...
Overview
Promoting cyber security education and awareness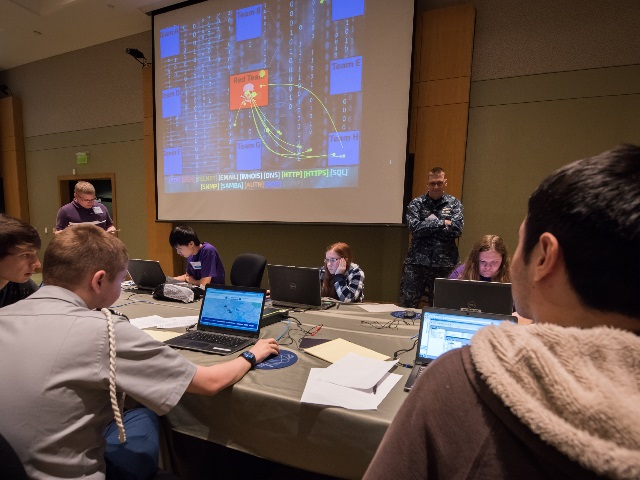 PCDC is an event for the promotion of Cyber Security education and awareness. Competition energizes local high schools and colleges to develop invigorating and focused curriculum for the technical needed in today's fast-paced and challenging cyber environment. A brochure for the event is posted in the Documents Section
Competition is an all-day event followed by awards presentations and a networking opportunity where representatives of local technology companies and NIWC Leadership. Each day brings a new set of competitors to the field allowing South Carolina high schools, regional colleges, and cyber security professionals to go head-to-head. The schedule is posted in the Documents Section
Each 6-member team must work together as a real company would to defend their network from red team attacks while maintaining crucial business services and responding to customer and administrative demands. Winners are the most successful at thwarting the effects of hackers while keeping their businesses online and functioning.
2022 Winners
Congratulations to these winning teams!
High School
---
Palmetto Scholars Academy
Swofford Career Center
Home School STEM
College
---
Clemson University
The Citadel
United States Naval Academy
Southeast Regional Collegiate HackWarz Champion
---
United States Naval Academy





Event Venue
PCDC 2023 will be held on 15-17 April 2023 and will be hosted at Trident Technical College in North Charleston.
THANK YOU to our 2022 sponsors!!!
The competition, awards, scholarships and prizes are made possible through the generous support of many industry and institutional sponsors and over 100 volunteers from NIWC Atlantic and AFCEA, as well as many cyber security industry supporters & volunteers both in South Carolina & throughout the United States. The AFCEA SC Low Country Chapter and NIWC Atlantic wish to recognize the generosity and continuing support of our many Corporate Sponsors who made the 2022 Palmetto Cyber Defense Competition possible.