About The Event
PCDC 2021 is scheduled for 17-19 April 2021 and will be all virtual. Ten teams will be invited to compete on each day of the event with high schools competing on Saturday, colleges on Sunday and the pros on Monday. CyberPatriot was used as the high school qualifier and the Southeast Collegiate Cyber Defense Competition for the collegiate qualifier. Congratulations to all the qualifying Teams!
The High School Teams that will be competing on Saturday are: Palmetto Scholars Academy, Porter Gaud, Home School Network, Wando, Hanahan, Academy of the Arts Science and Technology, South Aiken, Spartanburg, Academic Magnet, SC Governors School.
The College Teams that will be competing on Sunday are: Clemson, College of Charleston, The Citadel, ECPI, Trident Technical College, US Naval Academy, Charleston Southern University, University of South Carolina, Horry Georgetown Technical College
The Professional Teams competing on Monday are: NCDOC, SC National Guard, NAVFAC, SAIC, Dominion Energy, SRC, ECS
We will again be attempting our first ever Southeast Region Collegiate HackWarz® competition which will also be all virtual.
The following teams are registered to compete: Trident Technical College, Kennesaw State University, Horry Georgetown Technical College, ECPI, Charleston Southern University, US Naval Academy, University of South Carolina
There will be no Palmetto Digital Forensics Competition. We look forward to another successful PCDC whether we see. Remember, PCDC is helping to energize and develop our current and future Cybersecurity Workforce.
Overview
Promoting cyber security education and awareness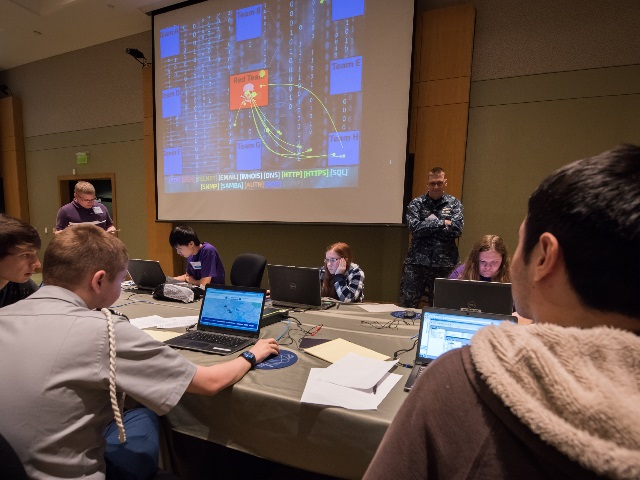 PCDC is an event for the promotion of Cyber Security education and awareness. Competition energizes local high schools and colleges to develop invigorating and focused curriculum for the technical needed in today's fast-paced and challenging cyber environment.
Competition is an all-day event followed by awards presentations and a networking opportunity where representatives of local technology companies and NIWC Leadership. Each day brings a new set of competitors to the field allowing South Carolina high schools, regional colleges, and cyber security professionals to go head-to-head.
Each 6-member team must work together as a real company would to defend their network from red team attacks while maintaining crucial business services and responding to customer and administrative demands. Winners are the most successful at thwarting the effects of hackers while keeping their businesses online and functioning.
2019 Winners
Congratulations to these winning teams
High School
---
Palmetto Scholars Academy
Porter Gaud
Home School Network
MVP:Claire Issacs, Home School Network
College
---
Clemson University
Horry Georgetown Technical College
University of South Carolina
MVP:Nick Bulischeck, Clemson University
Gallery
Check our gallery from the recent events
Thank you to our sponsors
SAIC will be holding a Job Fair on Tuesday, April 20