About The Event
We would like to thank everyone for the hard work and support that they have put into preparing for PCDC 2020. Unfortunately, due to circumstances beyond our control, we are cancelling PCDC 2020. Out of an abundance of caution, given our current situation regarding the COVID 19 virus, we are abiding by guidance provided by local, state and national authorities. The health and safety of our PCDC family is paramount and we urge all to be extra vigilant during these trying times. Please take care of your families and be kind to others. We are looking forward to the end of this pandemic and the return of PCDC in 2021.
Overview
Promoting cyber security education and awareness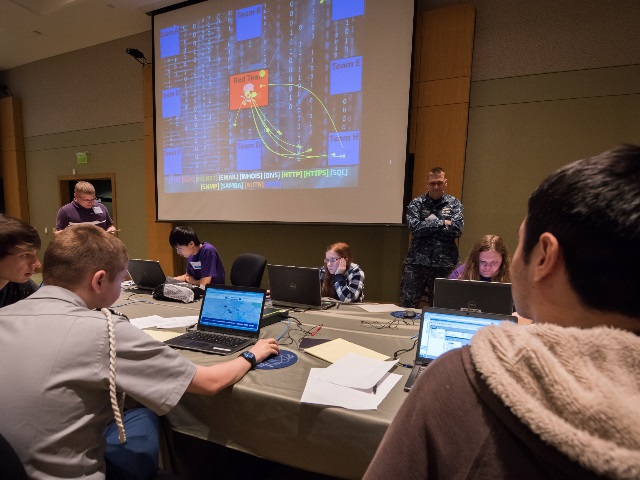 PCDC is an event for the promotion of Cyber Security education and awareness. Competition energizes local high schools and colleges to develop invigorating and focused curriculum for the technical needed in today's fast-paced and challenging cyber environment.
Competition is an all-day event followed by awards presentations and a networking opportunity where representatives of local technology companies and SPAWAR Leadership. Each day brings a new set of competitors to the field allowing South Carolina high schools, regional colleges, and cyber security professionals to go head-to-head.
Each 6-member team must work together as a real company would to defend their network from red team attacks while maintaining crucial business services and responding to customer and administrative demands. Winners are the most successful at thwarting the effects of hackers while keeping their businesses online and functioning.
2019 Winners
Congratulations to these winning teams
High School
---
Palmetto Scholars Academy
Porter Gaud
Home School Network
MVP:Claire Issacs, Home School Network
College
---
Clemson University
Horry Georgetown Technical College
University of South Carolina
MVP:Nick Bulischeck, Clemson University
Event Venue
Learn more about Trident Technical College
The venue for the competition is Trident Technical College in North Charleston. PCDC events will be held in College Center (Building 920). Free parking is available and will be marked accordingly. Helpful area maps can be found at: https://www.tridenttech.edu/about/locations/maincampus.htm
Gallery
Check our gallery from the recent events