About The Event
PCDC 2022 is scheduled for 9-11 April 2022. Ten teams will be invited to compete on each day of the event with high schools competing on Saturday, colleges on Sunday and the pros on Monday. CyberPatriot will be used as the high school qualifier and the Southeast Collegiate Cyber Defense Competition for the collegiate qualifier. Good Luck to all the qualifying Teams!
Scenario:
Palmetto Cryptographic Digital Currency Inc. (PiCoin) is the premiere currency and exchange through which digital currencies are traded.As new regional exchanges are brought online the company has engaged teams of highly trained system operators to run them. These regional exchanges play a small but critical role in the efficient distributed processing of world economic financial records. PiCoin is responsible for online corporate electronic financial interfaces, anonymized customer account tracking, records of various financial transactions, and employment of millions around the globe. Their teams of professionals and the systems they operate are unfortunately increasingly popular targets of modern digital pirates.
We will again be hosting the Southeast Region Collegiate HackWarz®.
Registered teams are: Horry Georgetown Technical College (2 teams),
US Naval Academy (2 teams), Clemson (1 team)
The High School Teams that will be competing on Saturday are: Academic Magnet, Ashley Ridge, Home School STEM, Palmetto Scholars Academy, Porter Gaud, South Aiken, Stratford,Swofford, Wando1, Wando2
The College Teams that will be competing on Sunday are: Charleston Southern University, The Citadel, Clemson University, College of Charleston, ECPI, Horry Georgetown Technical College, Trident Technical College, UNC Wilmington, University of South Carolina,
US Naval Academy
The Professional Teams competing on Monday are: Air Force Command, ECS,
Dominion Energy, Fleet Cyber Command, SAIC, SC National Guard, SRC
Overview
Promoting cyber security education and awareness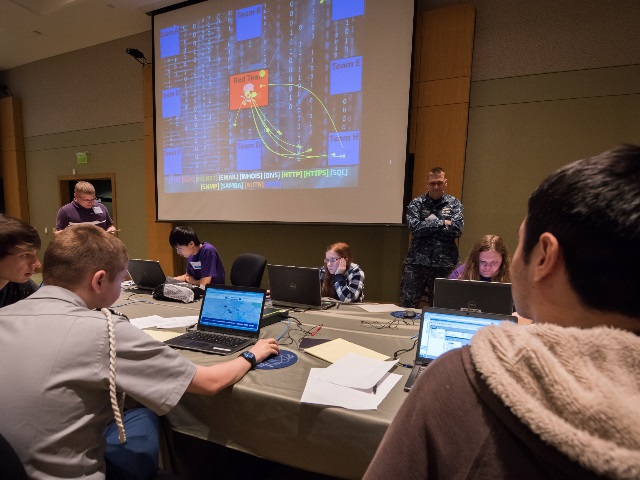 PCDC is an event for the promotion of Cyber Security education and awareness. Competition energizes local high schools and colleges to develop invigorating and focused curriculum for the technical needed in today's fast-paced and challenging cyber environment. A brochure for the event is posted in the Documents Section
Competition is an all-day event followed by awards presentations and a networking opportunity where representatives of local technology companies and NIWC Leadership. Each day brings a new set of competitors to the field allowing South Carolina high schools, regional colleges, and cyber security professionals to go head-to-head. The schedule is posted in the Documents Section
Each 6-member team must work together as a real company would to defend their network from red team attacks while maintaining crucial business services and responding to customer and administrative demands. Winners are the most successful at thwarting the effects of hackers while keeping their businesses online and functioning.
2022 Winners
Congratulations to these winning teams
High School
---
Palmetto Scholars Academy
Swofford Career Center
Home School STEM
College
---
Clemson University
The Citadel
United States Naval Academy
Southeast Regional Collegiate HackWarz Champion
---
United States Naval Academy





Event Venue
PCDC 2022 is scheduled for 9-11 April 2022 and will be hosted at Exchange Park in North Charleston. A map to the venue and the schedule are posted in the Documents Section
THANK YOU to our 2022 sponsors